Welcome to Kingston Child Contact Centre
Our Contact Centre provides a neutral and safe venue for contact between children and visiting parents. There is a large play area equipped with a variety of toys, crafts and games.
Kingston Child Contact Centre offers 'supported contact'. Supported centres do not make verbal or written reports about visits. If you need a centre offering the higher level of 'supervised contact' you can search for them on the NACCC website. Kingston Child Contact Centre is suitable for families where no significant risks to the child, or to those around the child, have been identified.
The Centre is run by trained, unpaid co-ordinators and volunteers who are impartial. They have all been through an enhanced check by the Disclosure and Barring service and attend annual training. The centre is run by the Admin Team and coordinators.
We are based in the heart of Kingston upon Thames, at the United Reformed Church which is approximately an 8 minute walk from Kingston railway station, 3 minutes from main bus stops and a few minutes from the many surrounding car parks.
Watch our video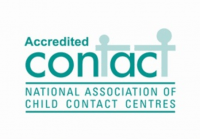 Accreditation
Kingston Child Contact Centre received re-accreditation from the National Association of Child Contact Centres in March 2018. We are next due for re-accreditation in 2021.